You can now generate your accessibility statements with Accessibility Cloud.
What is an accessibility statement?

Accessibility statement is a compliance document, stating your website's level of accessibility. It is being used globally and it is a legal requirement within European Union 🇪🇺 for the public sector.
Why is this feature important and unique to Accessibility Cloud?
Although there are other accessibility statement generators available, similar to privacy policy generators, what they generate is a generic text, which is inadequate and insufficient. An accessibility statement needs to cover a lot of important topics which cannot be omitted and they all require a manual test/audit to be performed against the applicable legal requirements/guidelines about accessibility.
Accessibility Cloud's accessibility statements are generated from the manual tests or audits by using all their applicable fields and doing all the necessary adjustments and calculations automatically for you.
They ensure legal standing of the document by covering all local requirements per country/region and allow you to customise the statement which is generated in the blink of the eye. All the expertise required to generate an accessibility statement is now included in your subscription.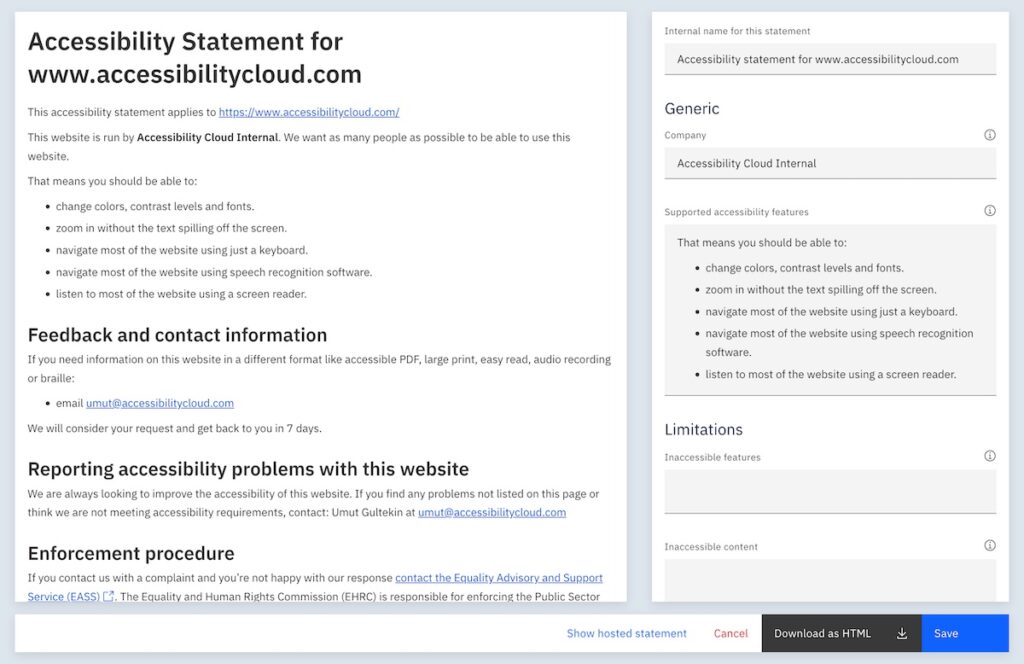 Follow the steps below to generate your accessibility statement today:
Go to your website under your subscription
Click "Accessibility statement" under compliance menu
Click "Generate accessibility statement".
Select a country/region and manual test/audit to use.
All required fields of your country/region will be added for you to customise and all the information will be retrieved automatically from your manual test/audit.
You can add new fields as required, modify their contents or remove them entirely.
A hosted copy of your accessibility statement and manual report will both be created. You can either use the hosted ones or download them as HTML and customise.
Get started with Accessibility Cloud
Accessibility Cloud is a comprehensive web accessibility testing platform which offers automatic and manual testing, document testing, powerful accessibility compliance features and so much more.
Create your free account or get a demo of our paid subscription plans.