Web Accessibility Testing Platform
Test & monitor your websites and documents against WCAG, EN 301 549, Section 508 and ADA. Accessibility Cloud offers automatic and manual accessibility tests, monitoring and compliance management within the same powerful platform.
Sign up
for free
to scan your site and get started.
Automated testing
Take advantage of multiple automatic accessibility testing engines, test your entire site and track your progress.
Test with what matters
Test with multiple engines; including the same one as your country's monitoring agency to have meaningful comparisons.
Manual testing
Perform automatically-assisted WCAG-EM tests, not just for WCAG, but for EN 301 549, Section 508 and ADA as well.
No more spreadsheets
All the test cases you need for different laws, guidelines and standards in one place, supporting imports and exports.
Monitoring
Ensure your content, all of it, remains accessible, all the time. Enjoy periodic monitoring, alerts and on-demand scanning.
Powerful & flexible
Fast and flexible monitoring configurations, including speed, scope, scanning engine, selective exclusions and more.
Compliance
Choose your compliance targets, conformity level and country. Automatically create your compliance documents.
Expertise as software
Local and accessibility expertise required for compliance documents, implemented as software.
Supported compliance targets
Accessibility Cloud supports the following compliance targets for both automated and manual accessibility testing.
Accessibility Cloud with numbers
Is your website really accessible & compliant?
If you don't test manually, you just don't know.
Accessibility Cloud doesn't provide you with misleading compliance claims, arbitrary accessibility scores or other types of happy pie charts which are created solely by relying on automatic tests.
Automatic scanning engines' coverage of WCAG (including axe-core, WAVE, SiteImprove Alfa, OAW, QualWeb) ranges between 25% and 57%, even with the most optimistic estimates. Therefore, compliance of a website with an accessibility guideline can only be determined as a result of a manual test, or an audit.
Accessibility Cloud uses manual tests for compliance and automatic tests for monitoring and for determining non-compliance.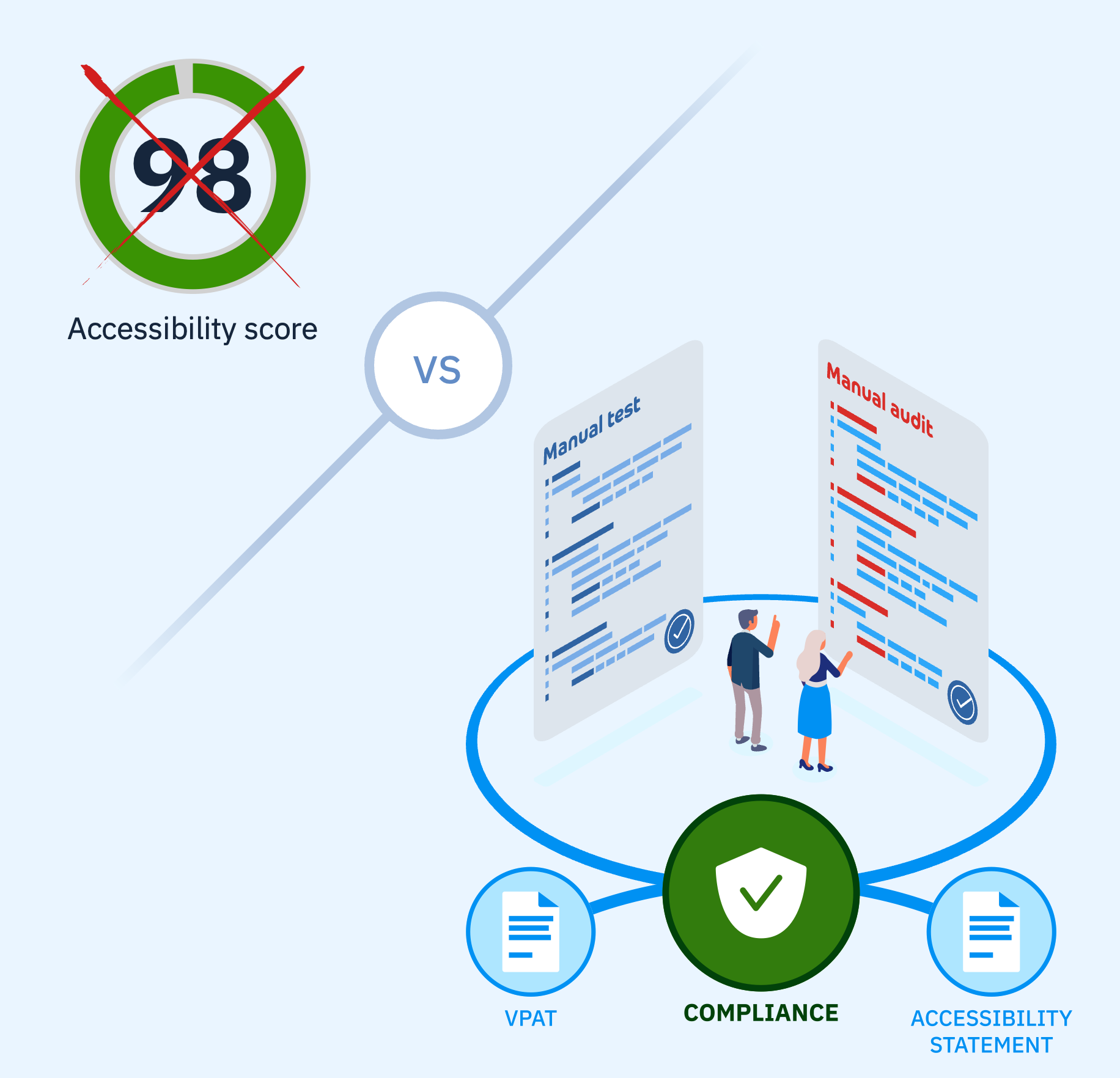 Threat: Misled belief of compliance

Quotes from happy customers
With Accessibility Cloud, we found accessibility errors, discovered their impact, saw how widespread each problem was, prioritized, and understood how they could be remediated. We were able to quickly solve some of our site's problems since the service is very easy to understand and "chat with accessibility specialists" feature was of great help.
Accessibility Cloud has given our work on developing our digital accessibility a real push forward. The tool is easy to use and gives us valuable information on how to solve accessibility errors and issues on our websites. We also appreciate the versatility with the platform, for example set different compliance targets, and real-time accessibility support.
Get started with Accessibility Cloud
Accessibility Cloud is a comprehensive web accessibility testing platform which offers automatic and manual testing, document testing, powerful accessibility compliance features and so much more.
Create your free account or get a demo of our paid subscription plans.